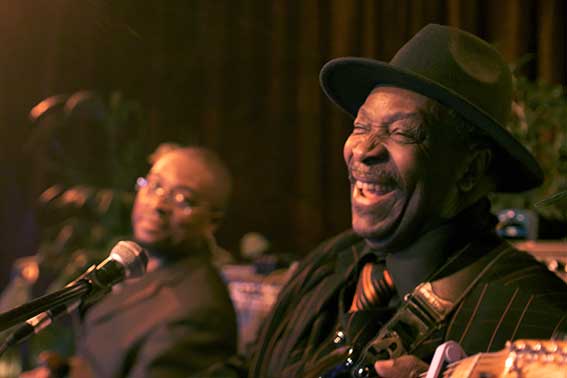 Dizzy Mandjeku, master at the guitar, born in 1946, is considered a living legend when it comes to the Congolese rumba movement. When he moved from Congo to Brussels, he founded Odemba OK All Stars with the aim to keep the typical Congolese rumba as developed by the T.P.O.K. Jazz alive, as Dizzy Mandjeku was a key member of Franco's orchestra.
More recently, Dizzy collaborated with singers like Waldemar Bastos, Sam Mangwana, Zap Mama, Milow, Baloji and Stromae.
The musical heritage and cultural relevance of Franco Luambo Makiadi and T.P.O.K. Jazz is essential. This legendary orchestra was of great influence and its unique approach of rumba became known as 'Odemba'. It embodies the way the musicians play, the dancing and the classic dress code. Dizzy Mandjeku was a key member of Franco's orchestra. After Franco's passing in Brussels during a tour in 1989 he entrusted Dizzy with the artistic direction. Dizzy then stayed in Brussels with half of the orchestra, dedicated to continue Franco's work. One of these members is vocalist Malage de Lugendo, now performing as lead singer with Odemba OK All Stars. Both carry a great part of history with them and embody an important part of the Congolese musical heritage.
Odemba OK All Stars feature all Congolese musicians living in Brussels.
Dizzy Mandjeku – guitar
Toms Ntale – guitar
Malage de Lugendo – vocals
Lokombe N'Kalulu – vocals
Mukulu Muki – trumpet, vocals
Dibwidi Didan – tenor saxophone
Jomali Bolonge – bass guitar
Alonzo Nzau – drums