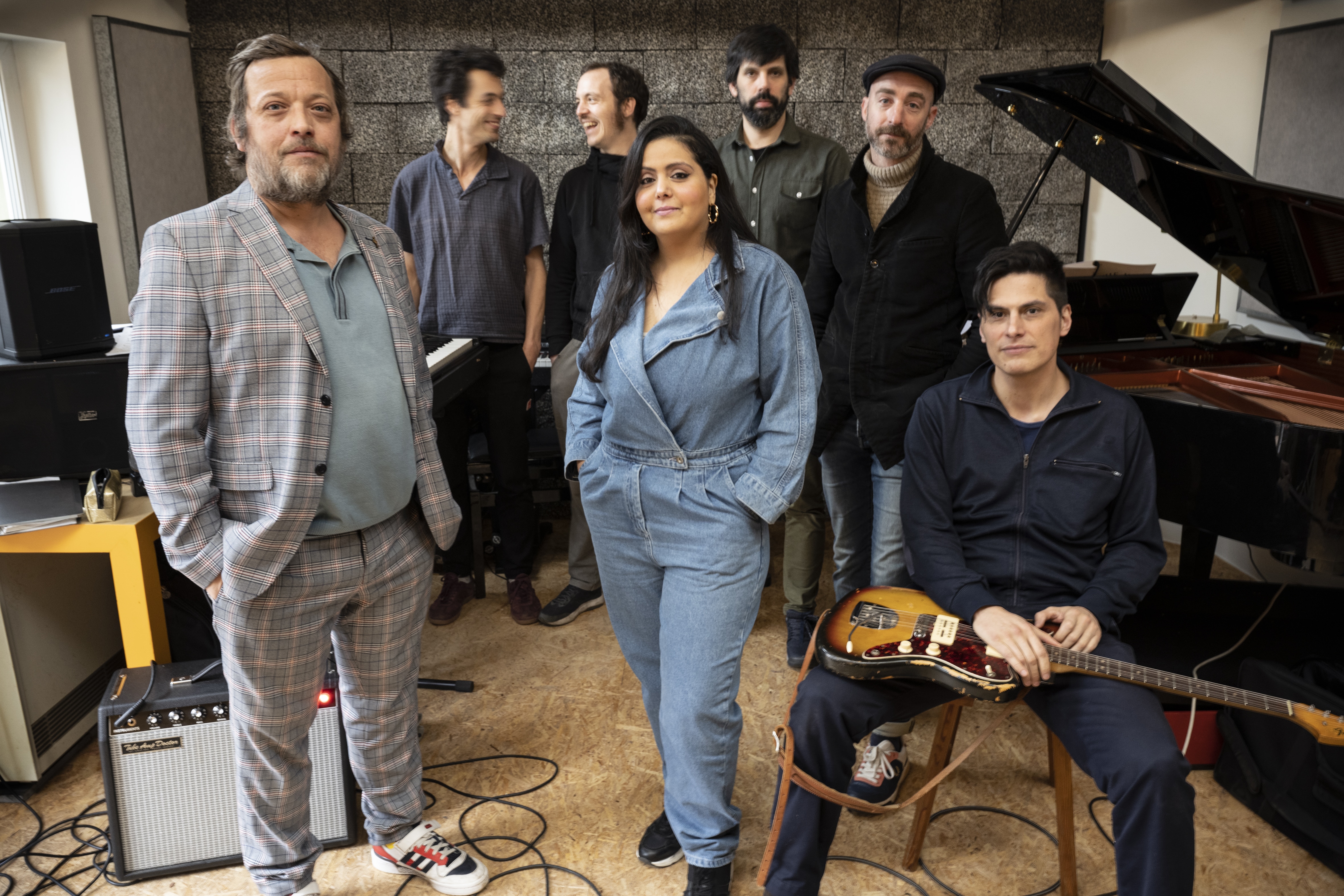 Gaïsha is a collaboration between the Belgian-Moroccan singer, Aicha Haskal, and Les Cerveaux Lents. Les Cerveaux Lents was founded in 2002 by musicians from Absynthe Minded and Va Fan Fahre. The acoustic sextet trod paths from Jewish-Arab to Ethiopian sounds, creating an atmosphere that runs the gamut from intimate nostalgia to stirring rhythms punctuated with improvisation. But, the accordion, the acoustic guitar and double bass are hanging upon the willows now and make place for psychedelic sounds and funky grooves.
From 2007 until 2013, Aicha Haskal was a member of  Va Fan Fahre. In 2010 she released with the band the album 'Al Wa'Debt', which resulted in a surprisingly natural fusion between Balkan brass band and Arabic music. The album received critical acclaim and featured in the top 10 of the World Music Charts Europe for several months. The band toured in France, Italy, Croatia, Brazil, … A new project, a new name: Gaïsha.
"Geisha are a class of female Japanese performance artists and entertainers trained in traditional Japanese performing arts styles, such as dance, music and singing, as well as being proficient conversationalists and hosts. Contrary to popular belief, geisha are not prostitutes."

Aicha Haskal's voice is smooth and warm and switches seamlessly between Arabic chants, parlando and even rap. The single 'L'Amour Digital' is based on 'Sihtou Wajdan', a traditional Muwashah. Muwashah is a poetic form that originated in Al-Andalus (Muslim Spain in the 11th century). Aicha adds to the poem a reply in French, giving the song a universal and interconnecting flair.
vocals – Aicha Haskal (Va Fan Fahre)
guitar – Eduardo Vega (Antwerp Gypsy Ska)
bass guitar – Lieven Van Pee (Beren Gieren, Echoes of Zoo)
drums – Jakob Nachtergaele (Absynthe Minded) 
organ/synths – Michael De Schryver (Va Fa Fahre, Proyecto Secreto)
violin – Renaud Ghilbert (Absynthe Minded)
clarinet – Adriaan Verwée (Va Fan Fahre)