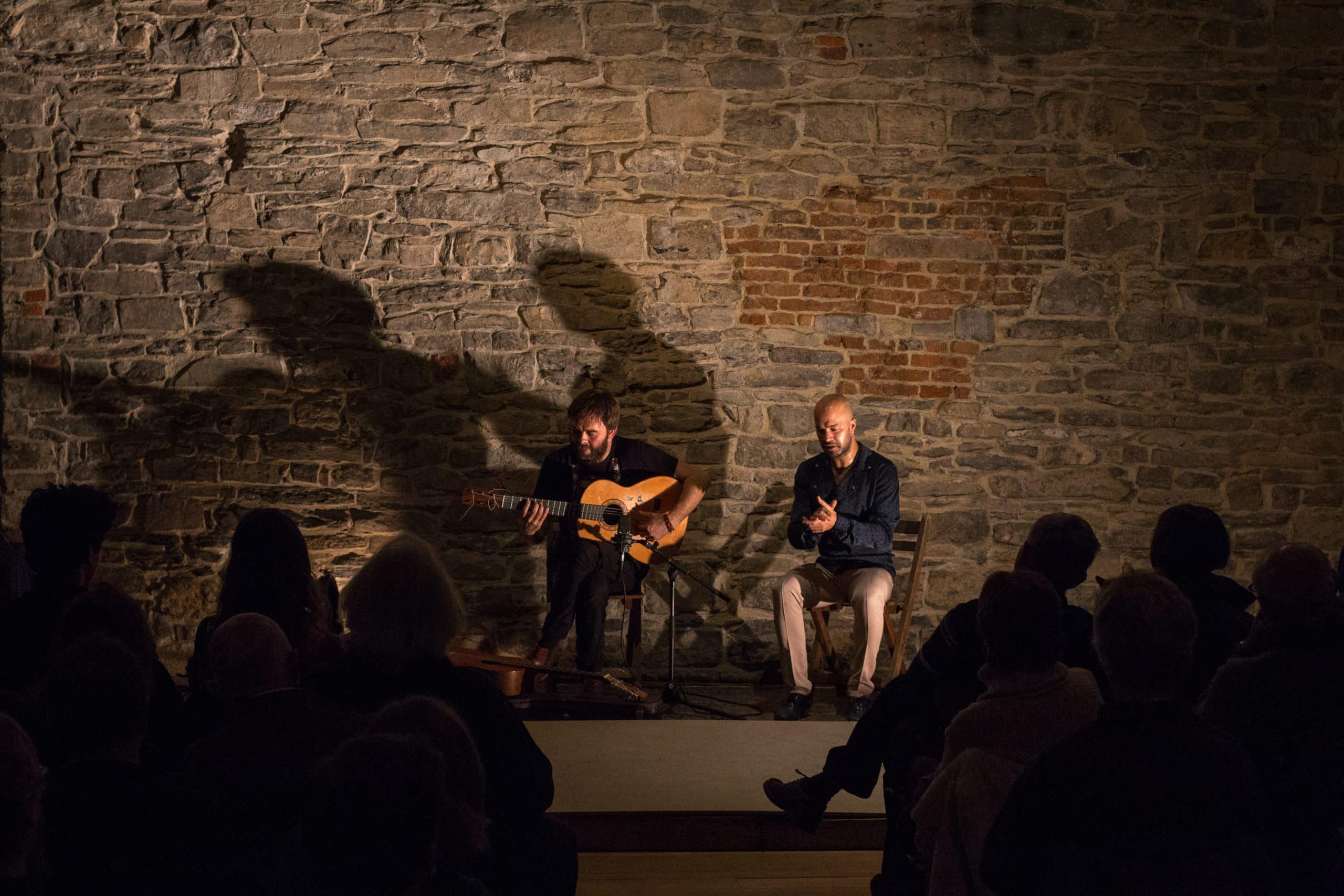 Voor de presentatie van zijn album 'Myfyrio' in het Gravensteen enkele jaren geleden wist Myrddin niemand minder te strikken dan rijzende ster Nino de los Reyes – éen van de stevigste performers in de hedendaagse flamenco die extra poëzie brengt in de sowieso al beeldrijke taal van Myrddin..
Nino
 de 
los
Reyes
 toerde onder meer met 
Carmen Cortes
, 
Javier Baron
 en 
Tony Gatlif
's show Vertige of was te zien als gast bij 
Pepe Habichuela
, 
Enrique Morente
 of de band van 
Paco de Lucia
, in een eerbetoon aan de grootmeester. De 
los
Reyes
 wordt vooral geprezen voor zijn ongelooflijke voetenwerk en zijn buitengewoon gevoel voor ritme. Dat hoor je ondermeer op
 Paul Simon's
 album "Stranger to Stranger". 
Nino
 de 
los
Reyes
 vormt samen met pianist 
Chick Corea 
en andere muzikanten de Spanish Heart Band vormen en wonnen drie jaar geleden een
 Grammy Award
 voor 'Best Latin Jazz Album'.
16 maart te bewonderen in Minard tijdens Soirée Negociée #3. In het bijzondere gezelschap van rijzende ster Nino de los Reyes  , één van de stevigste performers in hedendaagse flamenco, Tomas De Smet, Lionel Beuvens en Stijn Kuppens.
? minard.be/voorstelling/soiree-negociee-3-citadelic-invites-zephyrus-flamencowboys-myrddin-nino-de-los-reyes
17 maart
in
zarlardinge
tijdens 'Una noche in Las Ardennas Flamencas'. Voor deze gelegenheid nodigt Myrddin, naast Nino de los Reyes, Stijn Kuppens (cello) en Tomas Desmet (bas), het Braziliaanse topduo
Pablo & Helena
uit.