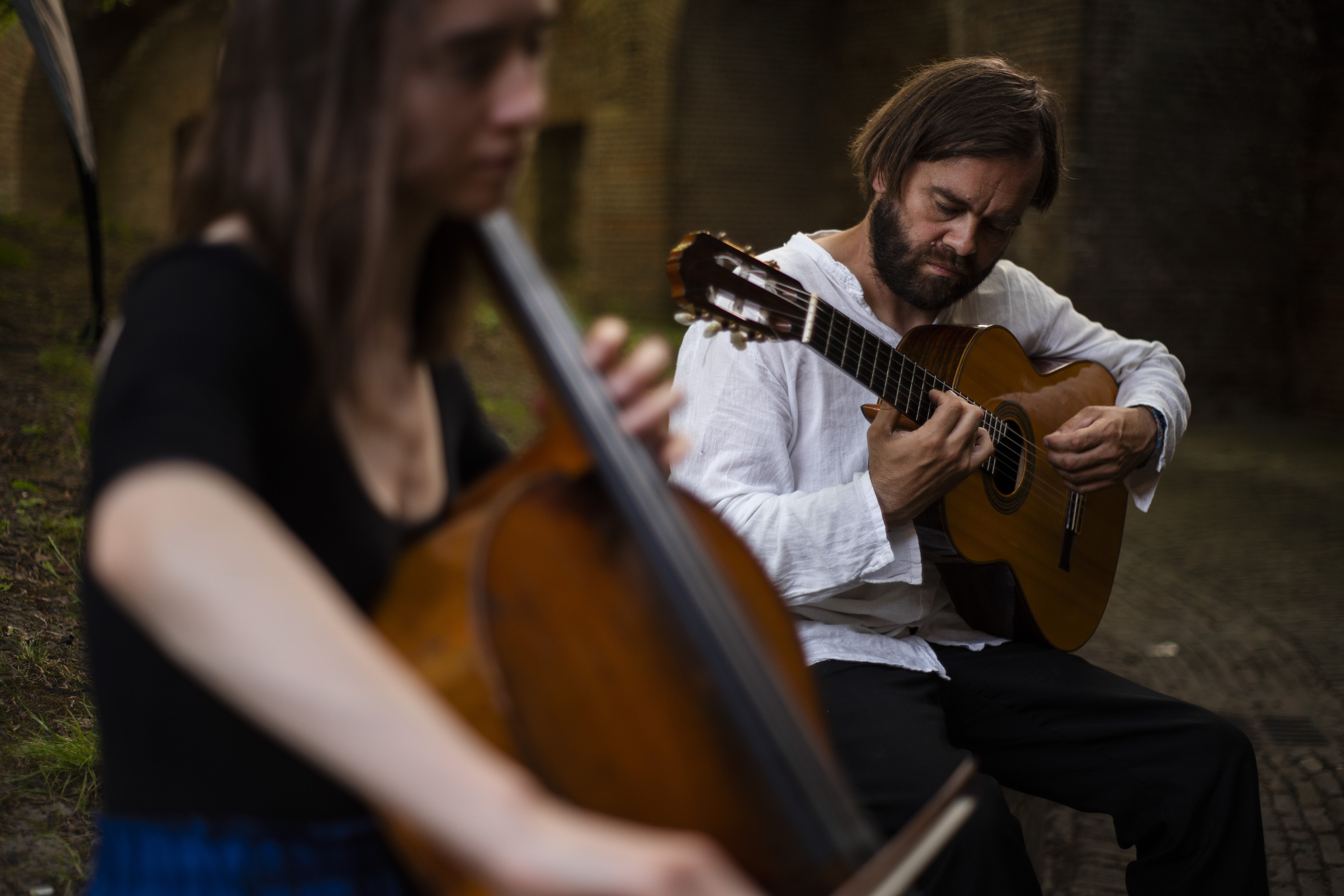 Friday the 28th of April we release 'De Zwaluwe', the first single of Myrddin en Imre's upcoming debut album.
Myrddin De Cauter, the youngest son of multi-instrumentalist musician Koen De Cauter, is a phenomenon in the world of contemporary music. As a teenager, he discovered the richness and originality of the flamenco guitar. After having mastered the subtleties, he went to Spain to take lessons with some of the masters of flamenco guitar: Gerardo Nuñez, Manolo Sanlucar,… His technical virtuosity, taste for experimentation and deep lyrical sensibility merge into a unique musical world. It turns out that Myrddin is not only a flamenco guitarist, but an exceptional talent.
This talent, passed down through many generations, now expresses itself again in Myrddin's daughter Imre. At only four years old, she received her first cello. In 2018, she made her debut together with her father at the Gent Jazz Festival. She knows and feels his music like no other and complements her virtuoso father in a sensitive, cutting and unctuous way. Making a perfect blend of sharp and soft. The family of musicians De Cauter puts a new generation of musicians ahead.
"While Myrddin tells mysterious stories and fairy tales with endless intervals of notes on his guitar, Imre hypnotises your soul with the sound waves of her cello."
UPCOMING CONCERTS
17-05-2023 – Merodefestival, Kessel-lo
18-05-2023 – Merodefestival, Kessel-lo
27-05-2023 – Wouter De Bruycker Galerij, Antwerpen
31-05-2023 – Handelsbeurs, Gent
03-06-2023 – Paradijshoeve, Hoegaarden
18-06-2023 – Gevaert museum, Sint-Martens-Latem
16-07-2023 – Walden Festival, Brussel
08-10-2023 – CC De Ververij, Ronse
28-10-2023 – Archipel Festival, Sint-Niklaas
19-11-2023 – Stadsschouwburg, Brugge